RGBLINK X1 Pro-E Overview
RGBLINK X1pro e features four 2K DVI outputs providing a full 4K split from 4K inputs, Essential 4K Video Scaling and Splicing,
X1pro e offers multiple operation modes to extend usage application beyond 4K split to splicing applications including 8Kx1K, 2Kx4K and more.
Preview modes offer preview capability of 2K~4Kx1K pixels range for even more control.
Besides DVI and DisplayPort input ports, X1pro e offers three option slots for 2K inputs sources which may include USB2.0 media, DVI, HDMI, CVBS, VGA, DP and 3G-SDI.
<br.
Control directly from the front panel or connect and control from XPOSE via RS232.
X1pro e is intuitive and fast to use, ideal for everyday video processing beyond 2K.
Key Features
Up to 12 splicing mode include 8KK and 4K pixels to pixels splicing
Pixel-to-pixel scaling
Independent scaling
Multiple operation modes including 2K and Dual 2K preview
Seamless switching
Redundant outputs and hot back up facility
Test patterns built in
Compact 1U housing
Support 4K input in DP1.1a or Dual-link DVI(HDMI 1.4 compatible) format
Support multiple layers during splicing
Quad-modes applications for different kinds of event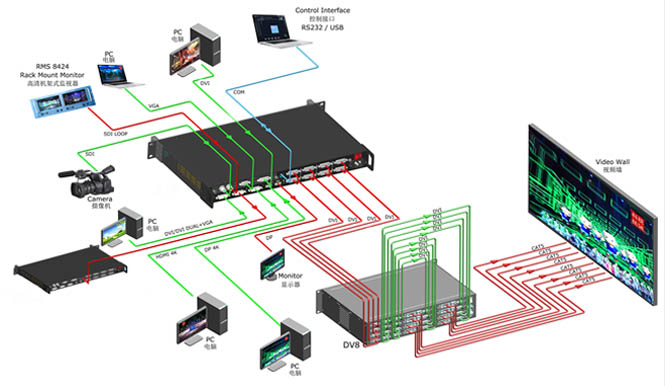 Specification of X1Pro-E
Connectors
Input
Standard with

| | |
| --- | --- |
| DVI | 2 x DVI-I (In / Loop) |
| DVI/HDMI | 1 x DVI-I |
| DisplayPort | 2 x DisplayPort (In / Loop) |

1 slot, up to 3 single inputs, select from below

| | |
| --- | --- |
| DVI | 1 x DVI-I |
| HDMI | 2 x HDMI (In / Loop) |
| 3G SDI | 2 x BNC (In / Loop) |
| DisplayPort | 1 x DisplayPort |
| VGA | 1 x DB15 |
| CVBS | 2 x BNC (In / Backup) |
| USB 2.0 | 2 x USB-A (In / Backup) |

Output
Standard with

| | |
| --- | --- |
| DVI | 8 x DVI-I (4 Out / 4 Backup) |

Communication

| | |
| --- | --- |
| RS232 | 1 x RJ11 |
| USB | 1 x USB-A |

Power
Performance
Input Resolutions
DVI | HDMI | DP

| | |
| --- | --- |
| SMPTE | 480i | 576i | 720p@50/59.94/60Hz | 1080i@50/59.94/60Hz | 1080p@50/59.94/60 |
| VESA | 800×600@60 | 1024×768@60 | 1280×768@60 | 1280×1024@60 | 1366×768@60 | 1600×1200@60 | 1920×1080@60 | 3840×2160@30 |

CVBS
VGA

| | |
| --- | --- |
| VESA | 800×600@60 | 1024×768@60 | 1280×1024@60 | 1440×900@60 | 1600×1200@60 |

SDI

| | |
| --- | --- |
| SMPTE | 480i | 576i | 720p@25/30/50/60 | 1080i@50/59.94/60 | 1080p@23.98/24/25/29.97/30/50/59.94/60 |

Output Resolutions
Select from below or configure customized DVI

| | |
| --- | --- |
| SMPTE | 720p@50/59.94/60 | 1080p@50/59.94/60 |
| VESA | 800×600@60 | 1024×768@60/75/85 | 1280×720@50/60 | 1280×800@60 | 1280×1024@60 | 1360×768@60 | 1366×768@60 | 1400×1050@60 | 1440×900@60 | 1600×1200@60 | 1680×1050@60 | 1920×1080@60 | 1920×1200@60 | 2048×1152@60 | 2560×816@60 |

Supported Standards

| | |
| --- | --- |
| SDI | SMPTE 425M (Level A) | SMPTE 424M | SMPTE 292M | SMPTE 259M-C | DVB-ASI |
| VGA | VGA-UXGA |
| HDMI | 1.4 |
| DP | 1.1a |

Power
Voltage
AC 100V~240V, 50/60Hz
Max Power
65W
Environment
Temperature
0°C – 55°C
Humidity
20% – 90%
Physical
Weight
Dimension

| | |
| --- | --- |
| Net | 480mm x 303mm x 45mm |
| Dimensions | 535mm x 355mm x 130mm |